Am. MBPIS Can. Ch. Lynallans Brushwood Tempest
"Teema"
Sire: Am. Can. Ch. Saxon Shore Roll of Thunder
Dam: Can. Ch. Taymarc's Black Ice
Co-Bred/Co-Owned By: Lynallan (Susan Nordstrom), Brushwood (Dennis  Sumara) &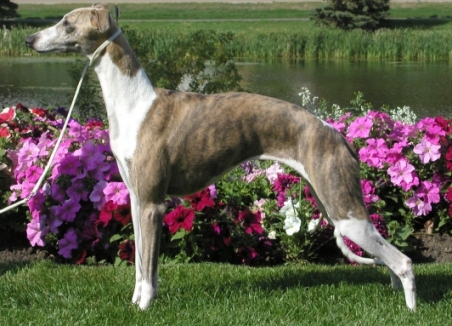 Teema @ 1.5 Years
Teema is a beautiful young whippet that has a wonderful future ahead of her. She has wonderful, sound movement and lovely features. Her temperament is very outgoing and happy and she has lots of attitude which is great for the show ring.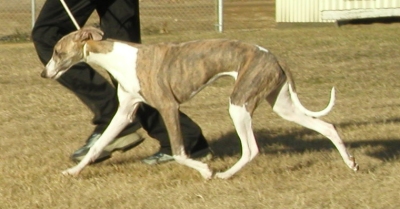 Teema has a wonderful pedigree that combines top winning/producing dogs from Canada and the USA. She is heavily line-bred to Am. Ch. Saxon Shore Amber Waves - "Jason".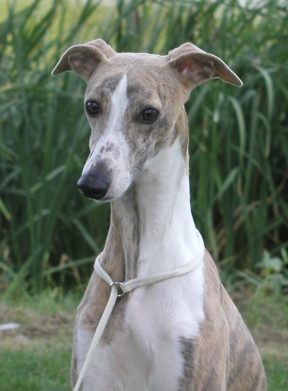 After a FANTASTIC puppy career Teema is now at home waiting to mature before going into the ring again.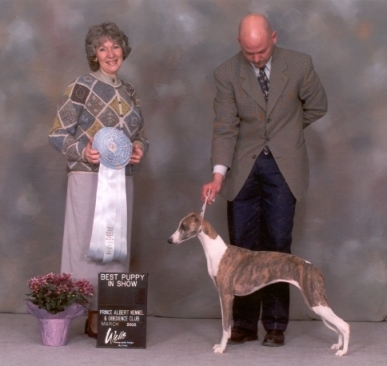 Teema winning BPIS #4 Under Mrs. Mike MacBeth
Teema easily finished her Canadian Championship in only 7 days of showing!!! (Handled To Her Championship, by myself, Alyssa Nordstrom) On her VERY first day in the ring, she received Best of Breed, Best Puppy in Breed, Group 4'th, Puppy Group & Best Puppy in Show under Michael Shoreman!!!!! She finished her puppy career with 3 back to back Puppy Groups and ANOTHER Best Puppy In Show!!!!! After Teema finished her championship she was handled by Raymond Yurick and Shawn Nichols - Thanks For Doing Such A Wonderful Job With Teema!!!
Teema finished her American Championship easily, with two 4 point majors (as a puppy) and two 5 point majors! Teema is Lynallans first American Champion.
Canadian Show Record
Best Puppy In Show-5 Times
Group 1st-3 Times
Group 2nd-2 Times
Group 4th-2 Times
Best Puppy in Group-12 Times
Best of Breed-7 Times
Best Puppy In Breed-13 Times
American Show Record
In just 11 days of showing Teema finished her American Championship with 4 majors!!
American Whippet Club Supported Entry (Jan.12/02)
Winners Female, Breeder/Judge Joan Frailey
4 Point Major
Dog Fanciers Association of Oregon (Jan.20/02)
Best of Winners, Breeder/Judge David Hyman
4 Point Major
Helena Montana Kennel Club, Inc (Sept.20/02)
Winners Female, Judge Lawrence J. Sinclair
5 Point Major
Gallatin Dog Club (Sept.24/02)
Winners Female, Judge William Bergum
5 Point Major
NEW CHAMPION!!!!
While Being Shown In The States Teema also recieved 3 Reserves To Majors
Tacoma Kennel Club (Jan.11/02)
Reserve Winners To A Major, Judge Rose Ellen Fetter
Puyallup Valley Dog Fanciers Inc (Jan 13/02)
Reserve Winners To A Major, Judge Donald Fitzsimmons
Gallatin Dog Club (Sept.23/02)
Reserve Winners To A Major, Breeder/Judge Joan Frailey
Click To See Teema's:
ã Copyright