Can. Ch. Taymarc's Black Ice
"Ivy"
Sire: Am. Can. Ch. Nasusa Polo of Taymarc
Dam: Can. Ch. Skeedoodle's Blue Lily
Bred By: Taymarc (Marc And Tanya Fontaine)
Owned By: Lynallan (Susan Nordstrom)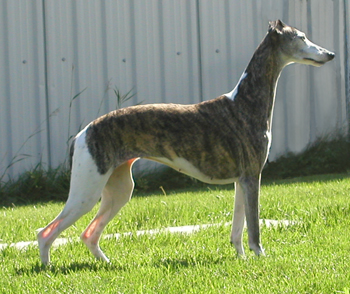 Ivy Pictured Above @ 9 Years Of Age
Ivy is our first whippet. She is a beautiful dog with a wonderful temperament. Ivy has won multiple group placements including a group first under Michelle Billings.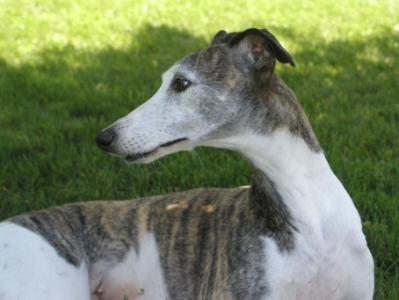 Ivy @ 9 Years Of Age
Ivy has produced 3 beautiful litters for Lynallan Whippets (Susan Nordstrom). The first was sired by Can. Ch. Nasusa Sound The Charge - "Gator" and only 2 puppies were born. The puppies were:
Can. Ch. Lynallans The Chase Is On - "Chase" (Puppy Group Winner)
Lynallans Whisper My Name (Pointed)
Her second litter was sired by Can. SBIS Ch. Henmar's Brookehaven N Wenrick - "Chester" and 8 puppies were born. These puppies were:
Can. Ch. Lynallans Rhythm And Blues (Puppy Group and Group 4 Winner)
Can. Ch. Lynallans Sadie Et Al Maxnme
Lynallan Harjue Madison Ave. (3 Points)
Lynallans Highland Fling
Lynallans Tickle My Fancy (Pointed)
Lynallans Playing For Keeps
Lynallans Simon Says
Lynallans Final Answer
Ivy's third litter was co-bred by: Brushwood (Dennis Sumara), Lynallan (Susan Nordstrom) and Endeavor (Linda Stewart). The puppies were born on April 11, 2001 and were sired by Am. Can. Ch. Saxon Shore Roll of Thunder SC - "Mr. Bean". The Puppies Were:
Am. MBPIS Can. Ch. Lynallans Brushwood Tempest
Endeavor's Infinite Echo
Endeavor's Ice Storm
Endeavor's Ice Wind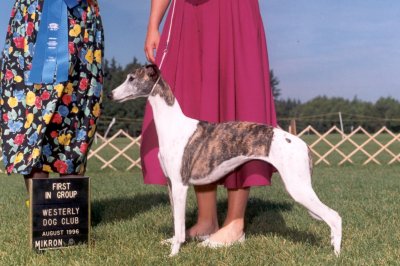 ã Copyright